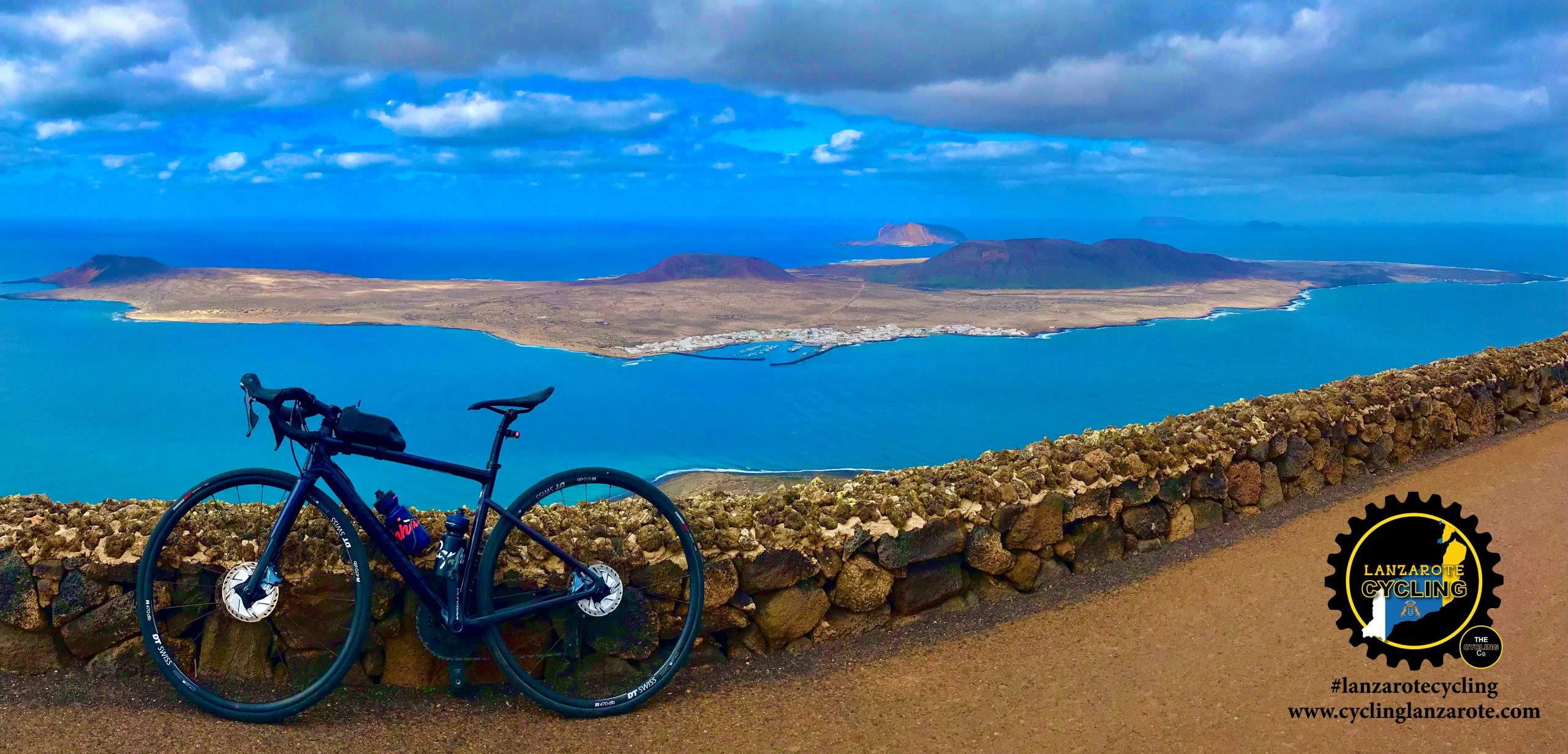 Welcome to Lanzarote Cycling.cc
You enter an island of fairy tale and a cycling paradise. Discover this miniature continent by bike. You will get excited with its nature and landscapes, you will know its volcanic history, tasty cuisine and you will get the kindness and hospitality of the islanders. With a perfect climate that makes this corner of the Atlantic the eternal Spring. Unparalleled places like Parc National de Timanfaya , el Golfo, Teguise, Famara, Haria and Mirador del Rio, among many others, will welcome you with open arms. Every cycling meter will be an incentive for the senses.
The natural volcanic environment, landscape, history, cultural and gastronomic wealth of the island is complemented by a wide offer for exploring its corners and secrets. Sea and summit united in a single pulse, pride for the islanders and a unique place for visitors who fall in love with the amazing weather, picturesque corners and the hospitality and kindness of its people.
Sticking to the gravel tracks and MTB paths doesn't mean missing out on our island's great biking opportunities. Road cyclists, tourers and those who just want to take it easy and take in the view are well catered for too. Quiet minor roads and a network of gravel / MTB paths and routes, there's a lot to see and do, so get on your bike and discover Lanzarote from your saddle, don't forget to follow us on our @lanzarotecycling social media channels and tag us in your #lanzarotecycling photos too.
Visit our events section to see the best Cycling Holidays and Events or ride some of the best routes in Lanzarote by downloading our GPX routes in TheCycling.shop.
Cycling touring is a great way to discover the Island – travelling larger distances and absorbing more of the landscapes and surroundings. Whether you are a seasoned visitor or are on a first visit to sample the famous great Lanzarote outdoors, getting on a bike is a safe and swift way of exploring. After such exertion you can be fully justified in stopping for a slab of cake or a pint of lager at any one of the many fine cafés or restaurants. Visit our TheCycling.cafe page for the best local pit-stops.
The last two decades has seen a year on year increase in the number and geographical spread of cycling visitors, and top events like the Lanzarote Ironman or new cycling events like LanzaroteBikeWeek.com can book up very quickly. Ironman events pitch road riders, ranging from have-a-go types to would-be racers, against the worlds best triathletes, covering most scenic and most challenging route on the island.
The Lanzarote Bike Week.com Cycling Routes
.
Lanzarote Bike Week – 13/14 day Holiday 10 Days Cycling
It is a full week long bike event on Lanzarote. Special moments and unforgettable routes that go through the island where fun is guaranteed kilometre after kilometre.
We cycle together setting the pace and reaching every target. The island is our host and this dream moves us on the calendar toward this unique event.
February means Lanzarote Bike Week and from the 5th to the 12th we will feel and be infected by the good weather, the atmosphere and the expectation that always generates a new opportunity to know and discover the island on two wheels.
Visit our LanzaroteBikeWeek.com Tours page in TheCycling.shop
Current Events
[tribe_events category="Lanzarote"]
Follow us on Instagram
Connect with us